Top Things You Need to Know Before You Hire a Roofer in Appleton
on April 21, 2020
No Comments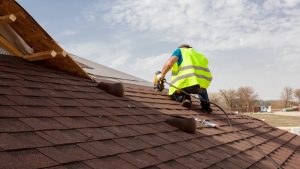 As a homeowner, it is important that the roof on your home is in good condition in order to prevent water leaks and other damages. However, the older your home is, the more likely you are going to need a roof replacement. Here are some of the top things you need to know before you hire a roofer in Appleton.
Name and Location of Their Business
When you talk with a roofer about working for you, you should get the name and location of their business. If they provide you with a post office box instead of a physical address, you should ask for their physical address. With this information, you need to research the company and contact the Better Business Bureau to check for any complaints. You can also contact the contractor licensing board in your area to see if they are properly licensed.
Type of Insurance Coverage
When you hire a roofer in Appleton, you want to make sure that they have insurance coverage. A professional roofer should have both liability and workers' compensation insurance in case there is a roofing accident. If the roofer does not have coverage, you may end up responsible for any damages or injuries at your home. Therefore, you should ask the roofer to provide documentation of proof of both policies for your own protection.
Experience and Skills
Before you hire a roofer, you should find out how long they have been in business and learn about their work experience. You should ask to see some pictures of his work if they have a business portfolio. In addition to pictures, you should request a list of their recent clients to contact them for a reference. If you know someone who has used this roofer's services, you should also contact them to get a business reference as well.
Warranty Coverage
Most roofers provide some type of warranty coverage on their work. Before you hire a roofer, you need to know exactly what does the warranty cover and how long the warranty coverage lasts. It would be wise to obtain a copy of the warranty with your contract. Contact Motto and Sons Construction today for a free estimate and to learn ways you can save!