Signs That Your Floors Require Hardwood Refinishing in Libertyville
on September 17, 2021
No Comments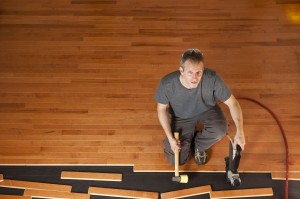 Not only do hardwood floors last for years, but they also look fantastic. To keep your hardwood looking its best you will need to take care of them, which requires hardwood refinishing in Libertyville.
If you are not sure if your floors require a good cleaning or if they need to be refinished, here are some signs to help you figure out the difference.
Numerous Scratches
The more scratches on your hardwood floors, the more likely it is time to refinish them. Scratches here and there are just a sign of regular wear and tear; plus, most of these minor ones will buff out with a good cleaning.
Where refinishing is needed is when the scratches go through the stain down into the wood itself. Remember during hardwood floor installation that darker stain will show more flaws, including scratches.
Wood Is Turning Gray
If your flooring starts changing to a gray color, that signifies that hardwood refinishing in Libertyville is needed. If you ignore the gray color, the wood may become damaged beyond repair, requiring replacement rather than refinishing. Wood begins turning gray when the finish has worn off, so the floor is no longer protected from liquids.
Water Damage
If the wood floor begins cupping or separating, these are sure signs of water damage. The first thing that you must do is find the source of the water damage to fix it. Cupping can often be sanded out and refinished while separating might require boards to be replaced.