Make Sure Your Chimney Is Maintained by the right Professional
on December 6, 2018
No Comments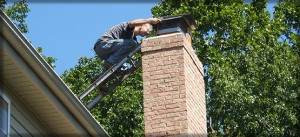 If you're looking for chimney sweeps in Rockville, there are a few things you need to be careful of. This industry is not heavily regulated, and because it doesn't cost a lot of money to set up a business like this, there are many people who will tell you they're professionals when they're not. So you need to be vigilant when choosing a company who can make sure your chimney is safe to use.
The reasons you need a professional to clean or repair your chimney for you are because there are a couple of things that can go wrong, and when they do, they can be very dangerous. There could be issues with parts like the flue and it's lining which means dangerous gases like carbon monoxide can escape into your home. If the problem is not addressed, it can cause some serious health issues.
Another problem chimneys will get is that of blockages, and this will happen one time or another. After all, your chimney is like a duct that expels smoke and gases into the open air outside your home. This means that things can also get into it. Small animals may decide to make your chimney their home, or you might get a build-up of leaves.
This is why it's important you make sure you have your chimney checked every year, and without fail! But how do you go about finding chimney Leak in Rockville? This is not an easy one to answer, but if you follow some of the following advices, you can protect yourself from hiring someone who doesn't know what he's doing.

You could start by looking in your local directory; however, ads only give you the name of a company and its contact details. In some instances, the ad may state that the company is part of a chimney sweep trading group, and this is the information you need to know.
When you contact the company, make sure they can prove they belong to these groups. If they genuinely are, they will be able to provide you with certificates they have, and any other written proof.
If you come up with a blank when using a directory, try asking friends and family if they know anyone that they can recommend. You could also ask neighbours who have chimneys as well. If they're maintaining their chimney the proper way, they will know of someone who can help. Recommendation is possibly one of the best ways to find a reputable company like this.
When you speak to a professional, trust your gut instinct; for most of us, this is rarely wrong. So if you hear those alarm bells go off in your head, move on to another firm. The fact is, as mentioned above, fires can be a very enjoyable way to heat your home, but they can also be dangerous if not cared for properly.
This is why it's vitally important you find a chimney sweep you can not only trust, but that you know will do a good job for you. Visit the site for more details.
Choosing chimney sweeps Rockville will need some research. Reputable ones will be able to provide you with the correct paperwork to prove they have the necessary experience. Visit http://reliableroofers.net/.