How to Find Quality Bathroom Contractors?
on August 7, 2017
No Comments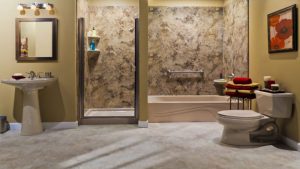 When you are ready to hire bathroom contractors to begin your bathroom renovation project, you will quickly discover there are more than a few options to consider. In fact, the options available may seem a bit overwhelming.
Don't worry, there are a few tips you can use to narrow down the options and find the contractor who is right for your specific project. Learn more here.
Recommendations
When searching for any type of contractor one of the first things you should do is ask for recommendations. You can ask friends, family members and even co-workers for their advice. This is a great way to "get the ball rolling" and get a few names to do further research on. Keep in mind, you should never rely on the advice of another person to make your decision entirely.
Do Your Own Research
After you have the names of a few bathroom contractors you can begin your own research. During this process, you should find out vital information, such as:
* Is the contractor licensed?
* Do they have liability and workers compensation insurance?
* Do they have a good rating with the BBB?
* Do they offer any guarantee or warranty for the services they provide?
By getting the answers to these questions you will be able to determine if you have found a contractor who is going to provide professional services and stand by the work they do.
Ask for Examples of Past Work
Before you make a final decision, ask for pictures or examples of the past work the contractor has done. This is a great way to determine if the contractor is going to be able to meet your needs. Take the time to do this with each person you are considering using.
As you can see, choosing a contractor for your bathroom renovations doesn't have to be extremely difficult. With the tips and information here, you will be able to find the best bathroom contractors for your needs and your specific project.
Learn more about hiring quality contractors by visiting the Best Choice Home Crafters website. You can pay a visit to Facebook page!